PSD3108 Weighing Indicator
Introduction:
PSD3108 is a weighing display controller for the industrial control field (or other applications requiring analog output). It integrates weight display and analog signal output. The front-end signal processing uses a high-precision 24-bit dedicated A/D converter, and the horizontal analog signal output uses a 16-bit D/A converter. The small panel-mounted aluminum alloy shell can be easily embedded in the control cabinet
Main function
Load Capacity
Excitation voltage: 5.0VDC, can drive six 350 analog sensors
Analog current output: Max 5000
Analog voltage output: Min 50KQ
Relay contact capacity: AC 7A/250V, DC 12A/120V
Performance
Sensitivity: 1.0uV/d
Non-linearity: better than 0.01% FS
Power Supply
Power supply voltage range: AC 187-242V, frequency 49-51Hz, power consumption 6W
The meter needs a good grounding wire, and cannot be connected to motors, relays or heaters, etc.
Devices that are prone to power supply noise share one power supply.
Temperature and Humidity
Operating temperature: 0℃-50℃, humidity 10%-85%, no condensation
Storage temperature: -30℃–60℃, humidity 10%-85%, no condensation
Features
Analog output: 4-20mA, 0-20mA, 0-5V. 0-10V
Relay output: fixed value mode and upper and lower limit mode
Isolated serial communication: RS2325RS485
Wiring Diagram: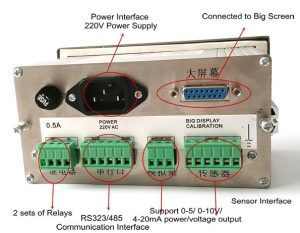 Dimensions: